To remove our extension from Firefox:
Click the button with three horizontal lines found at the top right of your Firefox browser (If you do not see the three horizontal lines, please scroll to the directions for older versions).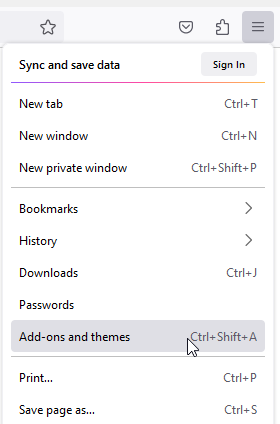 Select Add-ons and themes from the drop-down menu.
Make sure the Extensions tab is selected on the left side of the screen. Find the extension you are looking to remove. The name will match what is displayed on your browser (example Filmfanatic, FromDocToPDF, Weatherblink, etc).
​

Click the Remove button.
Confirm your removal on the confirmation dialog.
Restart Firefox. You should be all set!